Founded in 1992, Art'Tech is a support for the industrialization needs of our customers.
We study, design and integrate special made-to-measure machines meeting different and personalized specifications for the improvement of your industrial processes.
ACTIVITIES
Art'tech offers tailor-made, innovative and efficient assembly machine, solutions around the world that comply with your investment budgets.
We support our customers by retrofiting assembly machine up to standard, upgrading them and offering them new references.
Our support will allow industries undergoing modernization to engage in continuous improvement, with optimization of their production tool, but also controlled and optimum returns on investment (ROI).
Parent company of a group of entities, our role is to meet the needs of customers by integrating solutions adapted to the areas of expertise
Our areas of expertise in the design and manufacture of industrial special machines
Art'tech, specialist in robotic machines since 1992
Company established in Haute-Savoie, in the heart of a dynamic region, we have been serving the biggest names in the industry since 1992.
In 2017, Art'Tech built new 2000 m2 building near Annecy (France).
Composed of 50 people including 10 people in mechanical engineering and 12 people in Automation and robotics, we have a lot of equipment including 6 milling machines with numerically controlled machining centers and 2 parts stock stores and 1400 m2 of workshop.
ART'TECH is a group of four entities, we bring you know-how in :
The design of special machines
The design of leak testing machines
The design of diamented wire cutting machines
Mechanical retrofit
The design of electrical cabinets
CNC precision machining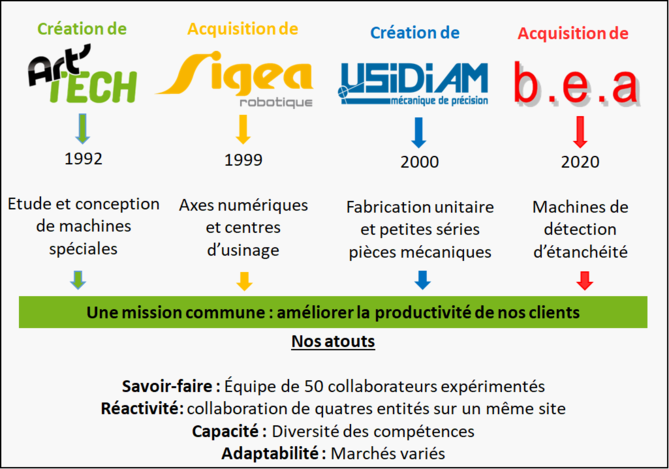 Do you have any
question ?
Do you have any
question ?